Success at State Qualifiers Continues Milestone Year for the Forensics League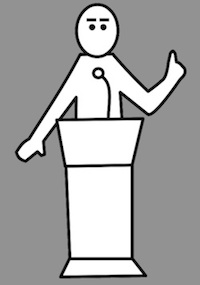 The speech and debate team had yet another outstanding performance at the PHSSL state qualifier tournament at Pine-Richland on Saturday February 28! Jennie Falgione, Andrew McDevitt and Audrey Botula competed for the first time this year at this tournament and all had very strong showings with Audrey taking 6th place in the district in humorous interpretation. Freshman Preston Roczko also had an outstanding performance in the competition and only missed making the final round by a hair. Katie Dickey placed 4th in poetry interpretation and is the alternate to the state tournament in that event. Junior Sam Huddleston placed 2nd in his event and will go to the state tournament in extemporaneous speaking.  Jacob Dickey had a great performance for the team as well, winning the PHSSL district championship in prose interpretation and qualifying for the state tournament.
All PHSSL (Pennsylvania High-School Speech League) member schools can send not only any members who qualify for the state tournament but also may send team members to compete in three consolation slots where they can take part in student congress, impromptu speaking, and radio announcing.  This means that the forensics team will most likely be sending a record five team members to state competition this year, an unprecedented feat in the modern era of OLSH forensics.