Pinkout!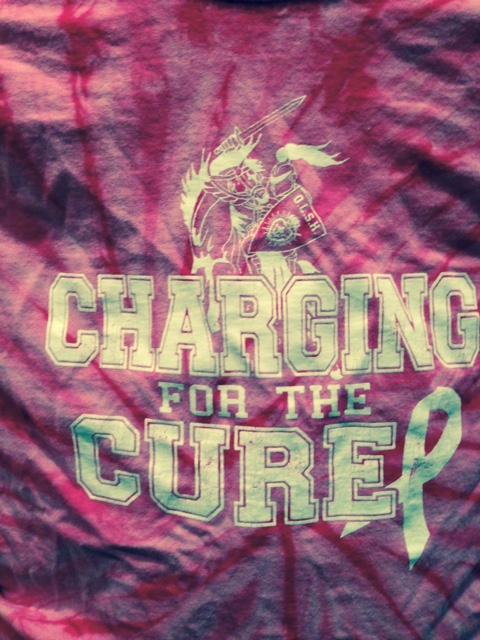 Evie Hoff, 2017 and Irene Harrell, 2018
October 17, 2015
The Pink Out football game is a beloved OLSH tradition that has been supporting breast cancer awareness by donating money to Hair Peace Charities since 2011. It started when the mother of students Christina Cook (class of 2012) and Trina Cook (class of 2014) was diagnosed with breast cancer. She informed the OLSH cheerleading coach Cathy Cochran that she had received much support from Hair Peace Charities, an organization that raises money to help women and girls undergoing chemotherapy to afford wigs. Ever since then, OLSH has been raising money every football season by selling pink shirts with the Chargers Logo on them. All of the money earned is given to Hair Peace Charities. Students then wear these shirts to the annual Pink OutFootball game, where they cheer their team on. "Being a part of Pink Out was an amazing experience. It was great raising money for such a great cause." Says cheerleader Alyssa Brinza. Though OLSH lost the game, we supported a charity and helped raise awareness for Breast Cancer.
OLSH's annual Pinkout Football Game was on Friday, October 2nd at the Robert Morris University football field. The game began at 8:00pm and the OLSH Chargers played against the Northgate Flames. The marching band was prepared and excited to perform the songs they had been rehearsing and the cheerleaders were pumped to spread the school spirit. OLSH's student section was bleeding pink and it was amazing to see all of the support the students had to find a cure for breast cancer. It was cold and rainy night with temperatures in the low 50s but that did not stop the fans from coming to the field to show their support for the OLSH Chargers! It was a tough loss for the Chargers but a win for Hair Peace charities.