NFL or OLSH Football (Part 2)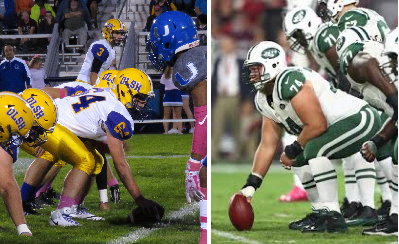 Last year, I wrote an article (found here) comparing elite NFL players with my OLSH teammates. Here, I will be doing part two to this project, using different teammates from last year's. This was not a difficult article to write, most of these players' similarities with the pros were very obvious. So how do OLSH players match up against the NFL? See below.
Luke Saftner and Danny Amendola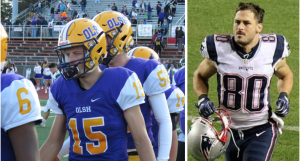 Danny Amendola is a current NFL Wide Receiver, most known for his time with the St. Louis Rams and New England Patriots. Luke Saftner, a receiver, is known more as a defensive player, who led his team in interceptions and was a First Team All-Conference Cornerback, but his similarities with Amendola are undeniable. Like Amendola, Saftner is quietly good at his position, and in a way underrated. When considering OLSH receivers, Saftner isn't the first to come to mind, and when thinking of Patriots receivers, Amendola isn't the first to come to mind. The in-common talents of these players are: speed and catching ability. Saftner will catch the ball, especially in big games, like the touchdown pass he caught in the 2018 WPIAL Championship. Amendola has himself a pair of touchdown receptions in big games (Super Bowl XLIX and LI). Saftner and Amendola are or have been respected Champions of their leagues.
Bobby Brazell and Harrison Smith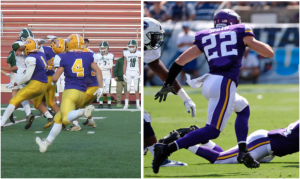 As a Sophomore, Bobby Brazell started many games for the Chargers. He played Safety, which is the same position as the Minnesota Vikings' Harrison Smith. Like Smith, Brazell is known for being a ball hawk. Brazell picked off four balls this year, while Smith had five. Smith is considered a fearless player for Minnesota, menacing opposing receivers. Brazell proved himself to be a fearless player this year as well, playing and performing in major games (including against Jeanette and in the WPIAL Championship). Next season, Brazell will be looking to be the leader of the OLSH secondary as Smith is for Minnesota.
Justin Walsh and Desean Jackson

Justin Walsh and Desean Jackson are both best known for one thing: speed. They are both arguably the fastest player on their team. They also both play the position of wide receiver. Jackson played 2017 and 2018 with the Tampa Bay Buccaneers and will now be returning to his original team the Philadelphia Eagles. Walsh also played for more than one team, transferring to OLSH his Senior year. Walsh and Jackson are also commonly known as outspoken players. Their speed and personality are extremely similar.
Damon Trombetta and Travis Kelce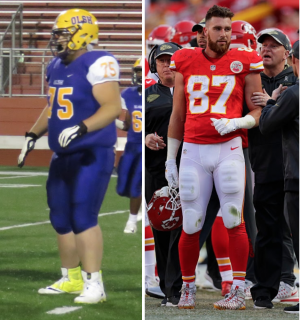 It may seem illogical to compare two players from different positions (Trombetta plays offensive line and Kelce plays Tight End), but the similarities overrule the position differences. The first similarity is simple: their size. Kelce stands at 6'5, 260, meanwhile, Trombetta (nicknamed Big Dame) is the same height, and a few pounds heavier. Kelce and Trombetta, also both come from football families. Kelce (a Tight End) has an older brother in the NFL, Jason Kelce, who plays Offensive Line for the Eagles. Trombetta (an offensive lineman) has an older brother, Dante Trombetta, who played Tight End for the OLSH Chargers. At times Trombetta and Kelce seem like brothers, and sometimes the same person. Also, Damon is a huge Chiefs fan.
Dion Macintosh and Warren Sapp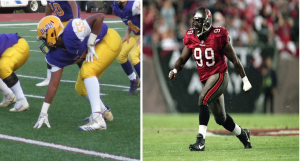 As a Freshman, Macintosh started a decent amount of games at Offensive Tackle, but during practices, Macintosh was a force to reckon with on the second team defensive line. The same could be said about Pro Football Hall of Famer Warren Sapp. Sapp played for the Tampa Bay Buccaneers from 1995-2003 and the Oakland Raiders from 2004-2007. Sapp's career achievement came in 2002, winning Super Bowl XXXVII. Macintosh is also a champion in his own league, winning the WPIAL Championship as a freshman. Macintosh and Sapp both have strong personalities and outstanding pass rushing skills. Macintosh flourished as a Freshman at the defensive line position, and in years to come will improve to be a Warren Sapp caliber player.
Eric Olexa and Eric Ebron

Olexa was two players this year. He was Number 54 – a durable Offensive Tackle, and Number 5 – an Eric Ebron type of Tight End. Olexa and Ebron have more similarities than just their first names. This was Olexa's first year playing for the OLSH Chargers. Ebron also played 2018 on a new team (the Indianapolis Colts). For both of these Erics, 2018 was their finest season so far in their respective careers. Olexa had himself a career high in touchdown receptions this season with 3, and Ebron had 13 on the season.These players are both tall, powerful receivers and strong blockers.
Steven Greer and Eddie Lacy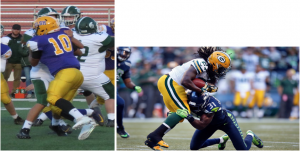 Greer and Lacy both had a promising and successful rookie season. Greer is a Freshman running back for the OLSH Chargers and Lacy is most known for his career with the Green Bay Packers from 2011-2016. These players are most similar in their size. They are both "BIG Man Running Backs". They won't run around you, they'll run through you, then go to the sideline for a snack, and return to the game fully energized. Both Greer and Lacy are powerful, dominant running backs.
Jamar Pearson and Lamar Jackson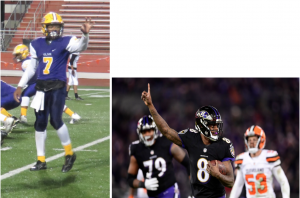 Jamar and Lamar, not only do their names sound similar, but so is their play. Pearson and Jackson both played their rookie seasons in 2018. They both play quarterback and although they can throw the ball, both are most known for their running ability. When Jackson was playing against NFL teams, it was almost guaranteed that he was going to run the ball on every play, yet he was still difficult to contain and shut down. Pearson was just as mobile as Jackson and ran with incredible speed and elusiveness. Jackson and his Baltimore Ravens were 2018 AFC North Champs, just as Pearson and the OLSH Chargers were undisputed Big Seven Champs. Jackson is now the Ravens number one quarterback as is Jackson for the Chargers.
Jeff Hulbert and Dick LeBeau

Jeff Hulbert and Dick LeBeau are both known for being defensive minded, old school type football coaches. They both were once stars on the Gridiron, way back in the old days. LeBeau played defensive back for the Detroit Lions from 1959-1972. Lebeau has 62 career interceptions, three pro bowl appearances, and is a member of the Pro Football Hall of Fame. Hulbert was a stud himself during his playing days at third-string Linebacker for Shaler High School. Like LeBeau, Hulbert was a passionate, intense football player. LeBeau continued his football career as a coach. He was the Defensive Coordinator for the Pittsburgh Steelers from 2004-2014. Hulbert became the Assistant Coach for the OLSH Chargers from 2010-present. Dick LeBeau is most known for his elaborate defensive blitzes, specifically the "zone blitz". The same can be said about Hulbert, who during a team scrimmage, received the nicknamed "Dick LeBeau" for his tricky, and nearly unblockable blitzes.
Photo Credits for Walsh and Olexa – TribHSSN