A Charger Repeat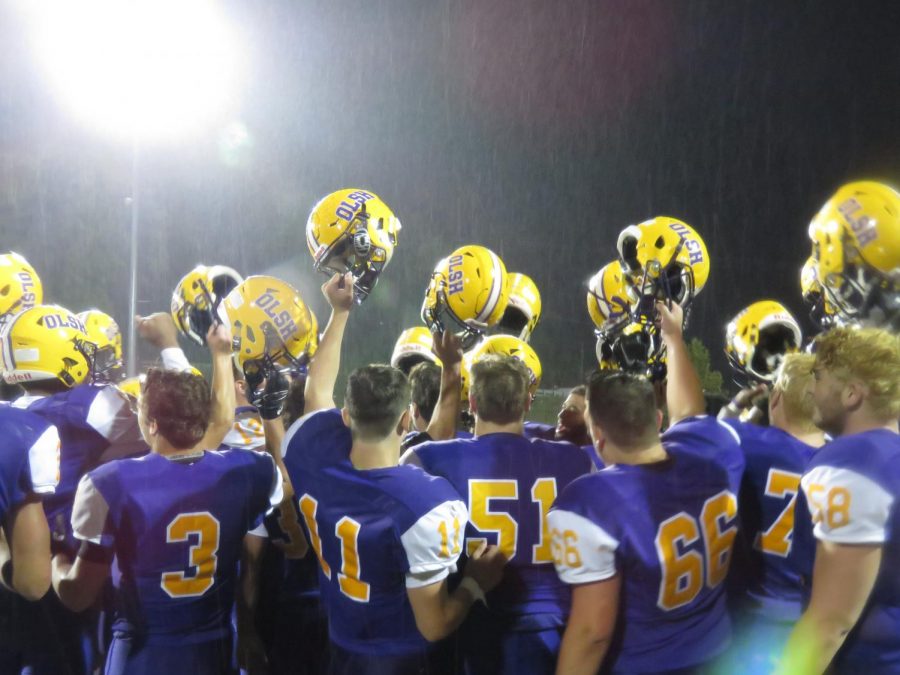 Matt Gauntner, Sports Editor
March 15, 2019
The OLSH Chargers will be walking into the 2019 football season already with a WPIAL ring, but their appetite for success is not satisfied. The 2019 Chargers will be playing for their second straight WPIAL Championship.
The Chargers will be losing twelve seniors this year, including a majority of their defensive starters, but their chances for a repeat remains likely. One reason for this optimistic thinking is the return of Dan Bradley and the coaching staff. Since Bradley's arrival in 2016, the team went from one win in two years (2014-15) to never missing the playoffs (2016-18). If Bradley can take an 0-9 team to the playoffs, it should be no surprise what he can do with one fresh off a WPIAL Title.
The team will have a number of returning starters, one being Defensive Linemen, Eric Olexa '20. Olexa played a major role on a superb defensive line, earning All-Conference honors. Another returning starter is Defensive End, Brock Saftner '20. This will be Saftner's third consecutive year as a starter. With this veteran experience, he can establish himself as the leader of the "Purple Reign" defense. The secondary will see one returning player – Bobby Brazell '21. Brazell had an exceptional Sophomore year, recording four interceptions, including the game-sealing pick in the WPIAL Championship.
The formerly known "young, inexperienced" offensive line will be returning with three starters. The starters include Center, Danny Farrell '21, Guard, Nico Harken '21, and Tackle, Eric Olexa. Farrell had a stellar season at the middle of the line, earning an All-Conference selection as a Sophomore. The Chargers will have a variety of options to place in the line, especially with Guard, Damon Trombetta '20. The 300+ pound to-be-senior already has a handful of starts under his belt, so his experience is quite attractive. The 2019 OLSH O-line is looking talented and experienced.
It will be difficult replacing the All-State Quarterback, Tyler Bradley, but Jamaar Pearson '22 will have little trouble stepping in. Pearson is the WPIAL equivalent of the NFL's Lamaar Jackson. Like Jackson, Pearson is extremely mobile, while having a rocket for an arm. Pearson will likely be handing the ball off to the promising sophomore Stephen Greer '22. Greer is built like an Eddie Lacy or Jerome Bettis. He will be a difficult force to bring down. As for the receivers, the position appears to be scarce, but Bobby Brazell will most likely be the number one man.
When Guard Nico Harken was asked if he believes the team can win the title again, he simply replied, "yeah". Enough said.
The Chargers made history with their first title and now they are hungry for another. It's a high possibility the Chargers can repeat as WPIAL Champs, with their returning coaching staff, experienced offensive line, and rising stars.