Julian Edelman is a Hall of Famer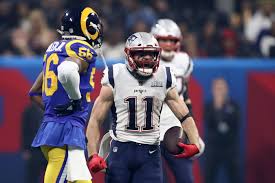 Matt Gauntner, Sports Editor
February 16, 2019
When thinking of the NFL's current elite receivers, the names often mentioned are: Antonio Brown, DeAndre Hopkins, Julio Jones, OBJ, etc. One of the names usually, somehow neglected from the list is Julian Edelman.
The Patriots slot receiver is known for his animated California spirit and determined blue collar work ethic. NBC Sports Broadcaster Cris Collinsworth once said if Edelman wasn't an NFL player he'd be an MMA fighter. The point is, the man is tough. With his 5'10 body and lumberjack beard, Edelman doesn't look like the typical NFL receiver. He played quarterback at Kent State for four years and was drafted by the Patriots in the seventh round in 2009. Edelman entered the league an underdog and has been playing with a chip on his shoulder ever since. Now he's become Tom Brady's number one target and has been a true factor in multiple playoff and Super Bowl victories. Edelman for some reason is not labeled as one of the NFL's elite receivers, but he is absolutely a [future] Hall of Famer.
The most used consistent argument against Edelman's future enshrinement is his stats. Statistically, he's not a Hall of Famer. In his ten year career, all with New England, he's only produced two seasons of over 1,000 yards. In today's game of the pass-happy league, this is certainly un-Hall of Fame worthy. Another negative stat for Edelman is his career total of zero Pro Bowl selections. There is not a single player in the Hall of Fame with zero Pro Bowl selections. A newer anti-Edelman argument is his 2018 four-game suspension for PED usage. If steroids can keep the home run king, Barry Bonds, out of the Hall of Fame, than Edelman does have a legitimate threat to his induction chances. The final argument against Edelman is the quote, "Brady makes receivers." With the exclusion of Randy Moss, Brady has never had an elite receiver, yet his success has been consistent for nearly two decades. It's no shocker that Edelman is successful and productive because Tom Brady is the definition of success and productivity. These reasons no doubt seem enough to keep a player out of the glorious Pro Football Hall of Fame.
The arguments against his Hall of Fame chances are not good enough to keep him out. The most important accomplishment and the ultimate goal in the NFL is to win a Super Bowl. Edelman and the Patriots know how to win Super Bowls. A stat that people have to respect is his four Super Bowl appearances and three Super Bowl victories. People will argue that this is a team achievement and that not every player with multiple Super Bowl rings deserves to be in the Hall. This is true, but Edelman isn't just an average player on a good team, he has been a significant factor and dominated in the postseason. His Hall of Fame moment came late in fourth quarter of Super Bowl LI against the Atlanta Falcons when he made an incredible catch, leading the Patriots to the biggest comeback in Super Bowl history. In his first Super Bowl, he scored the game winning touchdown against the Seattle Seahawks. He's added to his resume this previous season by being awarded the Super Bowl MVP.
Edelman is a very good player in the regular season and an elite player in the postseason. He has the most career postseason receptions and receiving yards, only behind Jerry Rice. He even recorded a postseason passing touchdown using his quarterback skills from his Kent State days and has also established himself as a dangerous punt returner, holding the record for most punt returns in a single Super Bowl.
With his success and durability, Edelman should most definitely be a Hall of Famer. He doesn't play in Pro Bowls because frankly he's too busy playing in Super Bowls, and winning them. His regular season stats are average, but his postseason numbers are near the top of all-time lists. It's not right to take away from Edelman's impact just because he plays for Brady. Brady helps – no question, but not enough to belittle Edelman's achievements. As for his PED usage, this can be a concern, but Edelman is not the only player in the Hall of Fame to have taken steroids, Mike Webster, Terry Bradshaw, and many others have this distinction. No receiver, not his predecessor Wes Welker or even the elite Randy Moss, has had such an impact on a team's success in this century. Julian Edelman is a Hall of Famer because he is clutch, consistent, and makes big plays in the biggest moments. It's not a matter of if he will make it, but when.