Are the Pirates Contenders?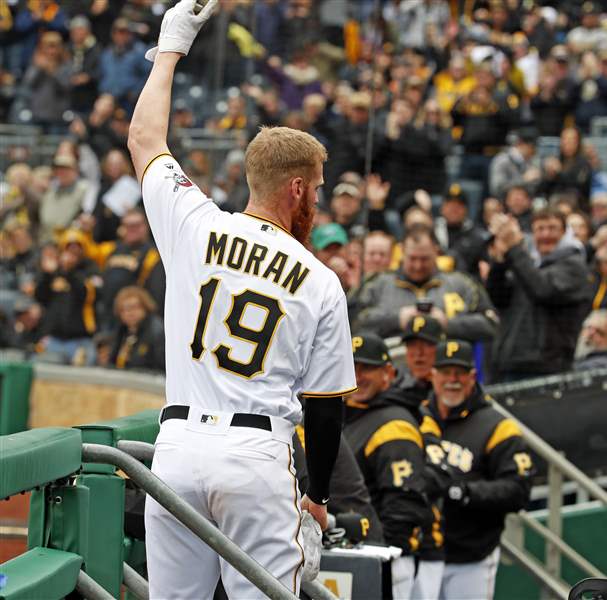 Matt Gauntner, Sports Writer
May 14, 2018
According to many MLB analysts, the Pirates, right now, are about as relevant to the MLB as Tim Tebow is to the NFL. Any Pittsburgh fan born after 1992, has yet to see a Pirate postseason (Buctober), but with the addition of Manager Clint Hurdle, the Pirates became legit and contenders. With a powerhouse lineup starring power hitters Pedro Alvarez and Neil Walker, superstar outfielders Andrew McCutchen and Starling Marte, Ace Pitcher Gerrit Cole plus others, the Pirates looked promising. They accomplished a magical postseason run in 2013, ending their TWENTY year playoff drought and took a passionate victory in the Wild Card game at PNC Park vs the Cincinnati Reds. They later went on to take a 2-1 lead over the St. Louis Cardinals, but failed to continue the winning streak and lost the remaining games of the season. The Buccos would return to the playoffs for two more years (2014-15), but in their Wild Card games were confronted by two of MLB's finest pitchers Madison Bumgarner and Jake Arrieta. After three consecutive postseason appearances the Pirates missed the playoffs for two straight years. Enter 2018: Pirates trade away All-Stars Andrew McCutchen and Gerrit Cole. Fans of the franchise ridiculed owner, Robert Nutting for being too much of cheapskate to provide a winning team for Pittsburgh and as a result PNC Park attendance plummeted 7,500 fans per game.
The Pirates surpassed those low expectations, surprising both fans and opposition with a (19-16) record (as of May 5), eighth place in power rankings, and 2 games out of first place position in the NL Central. With this unexpected success the major question is are the Pirates contenders or pretenders?
As of right now the Pirates appear contenders and here are three reasons why…
New Additions: With all the losses the team suffered during the off season, it was nice to see some Pirates' additions lead to the team's sudden success. The Pirates starting left fielder, Corey Dickerson, is former 2017 All-Star for the Rays. It's impossible to replace Andrew McCutchen, but Dickerson is doing a fine job as his substitute. He currently leads all Pirates' starters in batting average, RBIs, and hits. During his arrival to the team, he made an instant impact on Opening Day, throwing out Tigers' Nicholas Castellanos at home, turning a celebrated win by Detroit into an overturned out. The Pirates would go on to win the game 13-10 in the 13th. On April 26, he led the Buccos to another win with a walk off homerun against Detroit. Pittsburgh also added new third baseman, Colin Moran, who also made an instant impact. With his first ever at bat at PNC Park he introduced himself to Pirates fans with grand slam. Dickerson and Moran are key to the Pirates current and future success.
Stacked Bench: When starting second baseman Josh Harrison went down with a broken hand (was ruled out for six weeks), bench players were forced to step up. The bench features a talented cast including Adam Frazier, David Freese, Sean Rodriguez, and Elias Diaz. Frazier has been the main replacement for Harrison and leadoff hitter for the Pirates. He is batting .250 in 31 games. Freese and Rodriguez will occasionally make some starts when starters will have off-days. Both players are known to hit the long ball with a total of six home runs from the two. Back-up catcher Elias Diaz has been an incredible hitter having a .385 average, two home runs, and six RBIs. He also caught a 7-inning perfect game in Kingham's MLB debut. With a reliable bench, the Pirates have solid insurance for injuries and off days.
Impressive Outfield: The Pirates outfield was once known to be the best in the MLB with Starling Marte, Andrew McCutchen, and Gregory Polanco, but with Cutch gone analysts see a less impressive outfield. However, that's not the case. McCutchen isn't replaced with some random back-up, it's with former All-Star, Corey Dickerson. Starling Marte is now regarded as the most talented player in the line up, which is a fair judgement since he's a former All-Star and two-time Golden Glove Winner. Gregory Polanco (RF) has been, in the eyes of many fans, not living up to expectations. Now, with plenty of experience under his belt, Polanco should have a sensational year. He currently leads the team in homeruns with six. Marte and Dickerson are right behind him with five. It's important to have a good outfield and the Pirates have one of the best.
For Pittsburgh, hopefully the Pirates continue their winning ways throughout the season and make this October a Buctober for the first time in three years. A winning record and playoff appearance would definitely bring back angry fans and save owner Nutting from more criticism. With these talented new additions, a stacked bench ready for action whenever needed, and an impressive outfield the Buccos appear to be contenders.