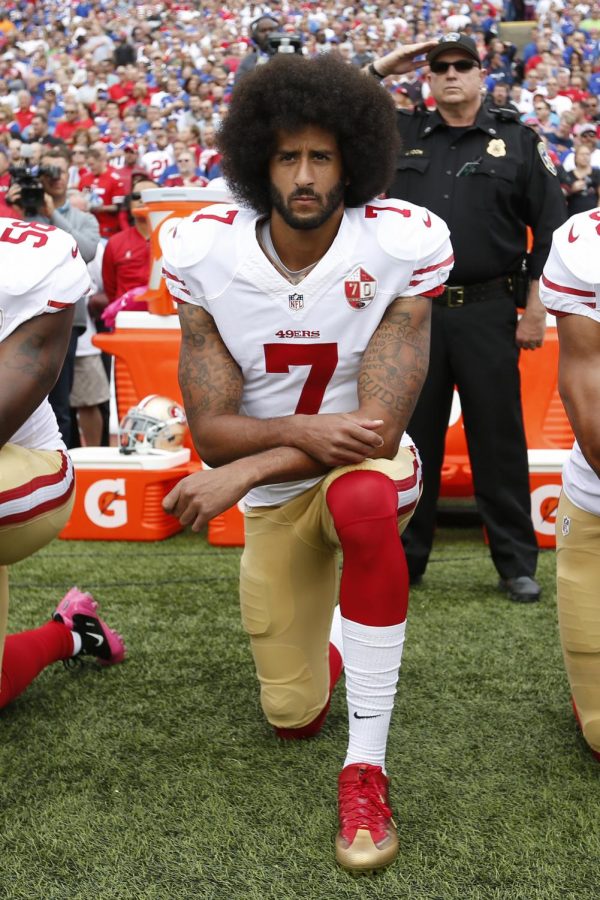 New York Post
The NFL has had numerous controversial occurrences concerning the National Anthem within the past few weeks. This National Anthem controversy really all began when former NFC Champion and starting quarterback Colin Kaepernick shocked the nation by choosing to kneel during the National Anthem. This was what would be "Kap's" fifth season and his first time choosing to kneel for the anthem.
"I am not going to stand up to show pride in a flag for a country that oppresses black people and people of color," said Kaepernick in a New York Times interview. "To me, this is bigger than football and it would be selfish on my part to look the other way."
Kaepernick chose to begin protesting during a time in America when there were a number of controversial arrests and shootings by police officers, and the Black Lives Matter movement was growing. Kaepernick was protesting racial injustice in America and believed he would be making an impact in doing so.
The action Kaepernick chose basically created two sides in the NFL and in America: those who supported him and those who despised his actions. Soon, it wasn't just the bench warming 49ers' quarterback taking a stand (or knee), some of his teammates and other players around the league joined him. It became normal to see a few players kneeling during the anthem, but his actions sparked anger and outrage among the patriotic fans of the NFL. Some claimed that he was being disrespectful to the flag and the soldiers who died for it. They said that an NFL game was not an appropriate stage for political protests. The fans who supported the protestors said that this form of protest was a First Amendment right and gave the players a platform to a voice their opinions about important matters. The arguments went on and on from both sides and NFL players continued to kneel and even totally ignore the anthem.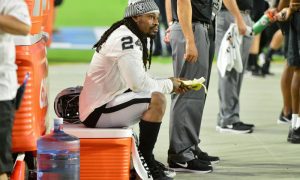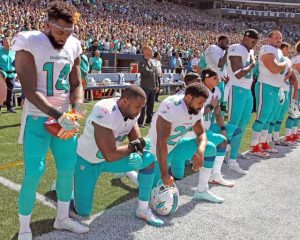 In week 3 of this year's NFL season these political protests came to a head. On September 22, President Donald Trump began speaking against the NFL's protests saying, "Wouldn't you love to see one of these NFL owners, when somebody disrespects our flag, to say, 'Get that son of a b—- off the field right now. Out. He's fired! He's fired!'". The NFL reacted differently than Trump intended as NFL players began protesting against Trump. In week 4, 52 players knelt for the anthem and 30 of them were from the 49ers, according to CBS Sports. Some teams agreed with Trump, like the Arizona Cardinals who had every single member of their team stand, and Jerry Jones, owner of the Dallas Cowboys, who even threatened his team that if they didn't stand for the anthem, they would be fired immediately. Just as Kap's action had affected the nation, Trump's words affected the NFL.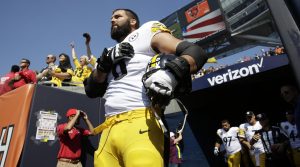 The NFL suffered a significant drop in ratings. In Week 1 of the 2017 NFL season, the NFL registered 16.3 million viewers; in Week 3 it had 14.8 million; in Week 4 the number dropped to 13.8 million after conservatives called for a boycott of the NFL. Some people believe that the drop in ratings was not caused by the "boycott". NFL Spokesman Brian McCarthy said, "NFL games continue to be the most valuable programming for networks and remain incredibly strong." He claims that the sudden drop in ranking was a result of the viewership in general being down for television. (Stats from Nashville's – wkrn.com).
On Sunday November 12, Veterans Day weekend, some are calling for a complete boycott of the NFL. Even if Brian McCarthy is correct about the "boycott" having no effect on Week 4 viewership for the NFL, it appears that the NFL has lost and may continue to lose some of its conservative fans and sponsors.
Is the NFL out of line? Some people claim that an NFL stadium is not an appropriate stage for protest, especially not during the National Anthem. Others argue that all Americans have a right to protest where and when they want including the sidelines. It will be interesting to see what the NFL will do in response to the actions of the players.